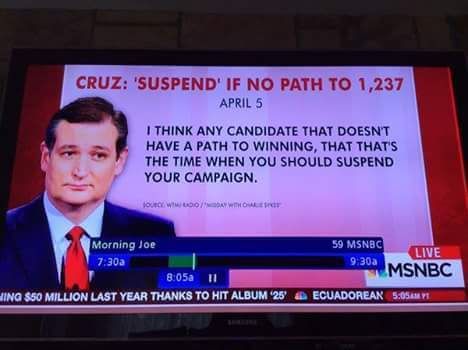 Since Lyin' Ted and Crazy John both have no mathematical path to 1237 (both lost).....and Trump does.....
ANY vote for either of the losers is a vote to BLOCK TRUMP (the voters choice). A vote to disenfranchise voters.
Voters may well THINK they are voting for Lyin' Ted (or Crazy John) but.....
THEY ARE NOT
They are voting for a contested convention, despite there being a CLEAR CHOICE made by voters... TRUMP!!
ANYTHING could happen at such a convention!!!
There is no guarantee (and little likelihood) of the person you vote for gaining the nomination (unless it is Trump)
IF "the bosses" can block Trump with close to 1237 delegates (and a clear mandate from a large majority of voters), it is just plain silly to think that they will not also block Lyin' Ted who has only 650 delegates, and is consistently REJECTED by over 70% of voters.
VOTE TRUMP - or Stay home and sit on your hands