Defense Closing Arguments - Cheryl Carpenter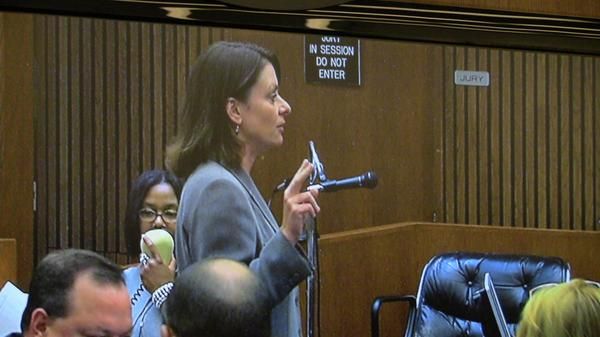 oralandar brand-wms
def opening now.."they were coming for him.." about incidents leading up to shooting
def atty cheryl carpenter: the law of self defen so simple, so easy and not complicated at all.
def atty going over self defense law w/jurors..the screen door also brought into court for def atty's closing arguments
def atty: the law of self def is the ultimate protect for everyone of us. For me, for you..This is what we need to concen. on.
def atty quoting wafer: i thought there were coming in..(the shooting) was not my first..(he grabbed bat).i tried to play dead
def atty: What evid did they give you the shot gun blast caused that (damage to screen door)…zero!!!
defense: "She was coming from the side at mr. wafer... Mr.wafer was terrorized in his own home."
defense: "this case is about renisha despite what the prosecutors think.."
defense: "I'm not blaming renisha but alcohol is what caused all of this. Shows timeline of renisha's last hours and wafer's
defense: wafer is a rule follower..that night he didn't do anything wrong. He's protected by the law of self defense clear and simple
defense says dbrn heights police "turned a blind eye" to some key evidence in the case during inves.
defense: race not an issue in mcbride case.says wafer did not know race of mcbride and he lives in mixed neighborhood
defense:ted was getting attacked...attacked
defense doing overhead with diagram of a house and words "FEAR" on home
defense:This man is acting and reacting to get awakened that morning. Are you going to sit in your home and wait?
defense graphic
defense: (the pros.)didn't bring anything to you. There is no way they can disapprove this was self-defense. None.
defense: (Wafer) is not guilty cause (the prosecution) did not disprove self defense.
defense: (the prosecution.)didn't bring anything to you. There is no way they can disprove this was self-defense. None.
defense: He's not a gun nut. He's not an angry person. He's not paranoid. He did it in the heat of that moment. He was in terror.
defense: I hate guns but i love the law(mi self defense law changed in 2006)
Carpenter again brought up the incident in which an assistant prosecutor pointed the shotgun in the direction of the jury on Tuesday. She said another assistant prosecutor racked the gun several times yesterday. Carpenter said the gun is scary.
by Gina Damron
defense: he didn't call 911 because he cldn't find his cell phone.
defense:He cares. He thinks about Renisha every day he wishes it never happened but he acted and fired in self defense
defense: we cldn't have asked for a better jury. thank you from the bottom of my heart
The Trial File
Judge told defense to move on discussing #RenishaMcBride I don't agree with talking about it but pretty inappropriate of judge.
defense: ted likes the police and they failed him
defense shows jurors pics of a vigil for mcbride by her family at wafer home to address her concerns over poss. contam. of crime scene
defense to her team of lawyers: "thank you team.."
defense referred to 1925 murder trial of dr. ossian sweet who shot in self defense to defend against white mob in detroit. defen. closingovr
asks jurors to send Ted home. and find him not guilty. pros athina siringas doing rebuttal ..tells jurors they can't get in wafer's head